2013 Photo Contest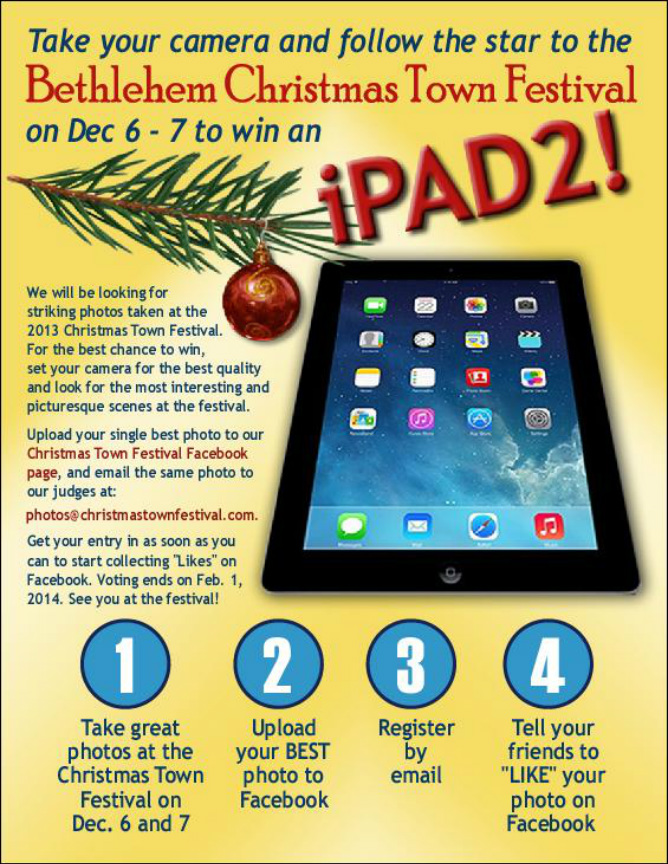 Quick Facts

Contest open to all students from 12 to 18 years of age. Photos must be taken at the Bethlehem Christmas Town Festival on Dec. 6 or Dec. 7, 2013. Upload your single best photo to the
Christmas Town Festival Facebook page
with a caption that describes the image. Only one photo per person.
Each entrant must also email the same photo to our judges at
photos@christmastownfestival.com
. Include in your email the following information: your name, address, age, school, phone number, and name of parent or guardian. All photos must be uploaded to Facebook AND emailed to the Christmas Town Committee by December 31. Public voting on Facebook will be closed at midnight on February 1, 2014.
HOSTED BY THE BETHLEHEM CHRISTMAS TOWN COMMITTEE THROUGH A
GENEROUS DONATION FROM PORTER & CHESTER INSTITUTE.