The Festival returns with all of the family favorites as well as new events and features.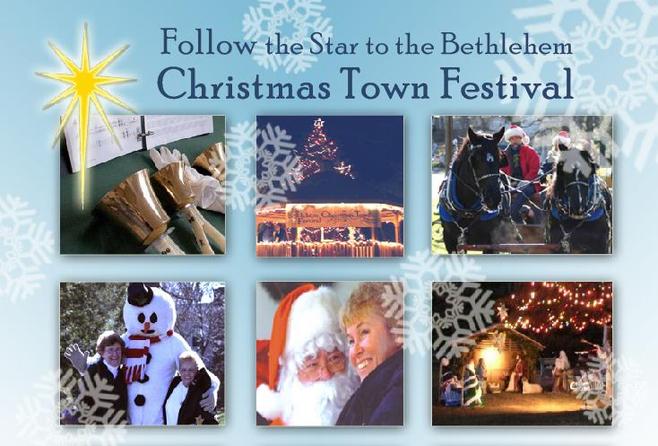 Join us for an old-fashioned Christmas celebration all around the Bethlehem Green on the first Friday and Saturday in December. This annual event features music performances, tree lighting, photos with Santa, horse-drawn hayrides, a book and cookie sale, crafts and gifts galore (indoors and out), food and refreshments, strolling carolers, holiday characters, a roving train ride, Santa's workshop, and bell choir concert, and fun for the whole family.

---
All Around Christmas Town
Christmas Cachets
A visit to the Bethlehem Post Office to send holiday mail has become an annual tradition for many families. You can select one of the 83 "Christmas Cachet" designs to hand-stamp your holiday greetings before mailing them off to friends and family with the Bethlehem Post Office cancel mark.
Where:
34 East Street MAP
Hours:
Fri. Dec 7 from 8 am to 8 pm; Sat. Dec. 8 from 8:30 am to 3 pm
The Bethlehem Post Office has introduced a new cachet each year since 1938. There are now 83 festive designs to decorate your holiday mail, all created by local residents, artists and children.
View
all cachets.
---
Regina Laudis Abbey
The Abbey's 18th-century Neapolitan Crèche was given to the Abbey by artist and philanthropist Loretta Hines Howard, who also donated a similar Crèche to the Metropolitan Museum of Art. Hand-carved figures of wood, terra cotta, jute and porcelain, vividly portray the Holy Family, angels, the Three Kings, merchants and peddlers, children, a lamplighter, a woman on her donkey transporting vegetables, peasants and farm animals.
Where:
249 Flanders Road MAP
Hours:
Daily 10 am - 4 pm
More information at
http://abbeyofreginalaudis.org/
A second Crèche at the Abbey, The Lauren Ford Crèche, is located in a small farm shed near the Lower Abbey Chapel. This Crèche, created by revered Connecticut artist Lauren Ford, is a charming rustic Nativity scene with figures of Jesus, Mary and Joseph dressed in New England clothes. The Abbey also opens to visitors its Monastic Art Shop, featuring all products of the monastics' work on the land and in animal husbandry: crafts, beauty products, cheeses, jams and jellies, herbal teas, flavored vinegars, herbs, and honey.
---